The Best Celebrity Makeup Looks From Met Gala 2022
Met Gala is the annual celebration of fashion and glamour where celebrities show up on the red carpet in exquisite outfits and makeup. The theme of this year's Met Gala was Gilded Glamour, and your favorite stars went all out with their looks to adhere to the theme.
From the generous use of gold and jewels to over-the-top makeup, this year's theme brought out the most creative looks. Here are our top celebrity makeup looks that deserve your attention.
Top 6 Looks From Met Gala 2022
1. Emma Chamberlain
Emma's makeup stood out on the red carpet with her golden eyeshadow that adhered to the Gilded Glamour theme. She also wore oodles of blush on her cheekbones and matched it with a light pink lipstick. Her fanned-out eyebrows framed this glamorous look to perfection.
2. Janelle Monae
Janelle balanced a deep red lipstick with a subtle smokey eye. Her thick lashes and glossy skin were the cherries on top. Another eye-catching detail of her look was her black and white manicure that matched her outfit. Also, her dress came with a bejeweled cap that emanated Goddess vibes. 
3. Isabelle Boemeke
Isabelle's graphic eyeliner was art in itself. It was further embellished with stones and the rest of the face had minimalistic makeup. Nude lipstick and flawless base complemented the liner to the tee. Furthermore, her extravagant manicure with embellishments and gold accents stole the show.
4. Sophie Turner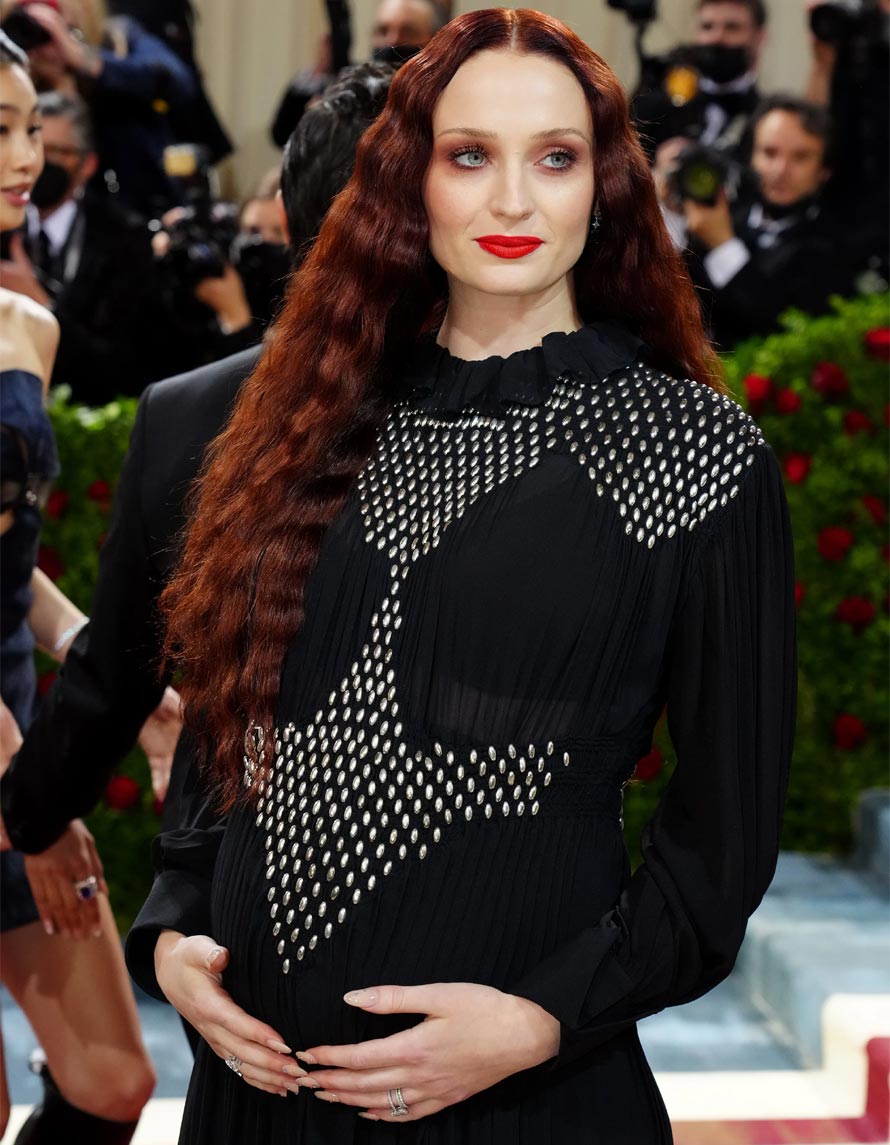 Sophie went all red with her hair and makeup, creating a stark contrast with her black outfit. Her burgundy hair was styled in mermaid waves that fell over the black dress. She also sported an orange-red lipstick and rusty eyeshadow. Some argued that the look aged her, but she looked stunning regardless.
5. Naomi Campbell
Naomi wore a black outfit embellished with crystals and decorated her face with matching gemstones. The rest of the makeup was pretty simple, with neutral lipstick and black eyeshadow. She wore her hair sleek and straight for a demure yet opulent Goddess look. 
6. Blake Lively
Blake's stunning Met Gala outfit took inspiration from Manhattan's architecture and transformed magically from bronze to a light blue. However, equally noteworthy was the actor's flawless makeup. With subtle lips, bronze eyeshadow with a hint of shimmer, and a glowy base, Blake looked radiant on the red carpet.
Three cues that you can take for your makeup from these stunning Met Gala looks are – nude lipsticks, bronze eyeshadow, and glittery manicures. So, which one of these will you be trying next?