Most Eye-Catching Celeb Looks From Grammy Awards 2022
The 64th Annual Grammy Awards were recently hosted in Las Vegas, with top musicians and artists from across the globe in attendance. Apart from the enthralling performances, the creative and awe-inspiring looks flaunted by the attendees were the talk of the town. Most celebrities went all out when it came to glamming up for the Grammys! Here are some of the best celebrity looks from Grammy Awards 2022 that are here to become a trend.
Top Celebrity Looks From The Grammy Awards 2022
1. Doja Cat
Doja Cat revealed a fresh new look at the Grammy Awards this year. She wore platinum locks in a quirky half-up hairdo. She framed her face with short bangs and had spikes at the back for an unusual and eye-catching look. Her outfit was icy and blingy to bring out the platinum of the hair even more. Altogether, this was a look that could be talked about for the years to come!
2. Paris Hilton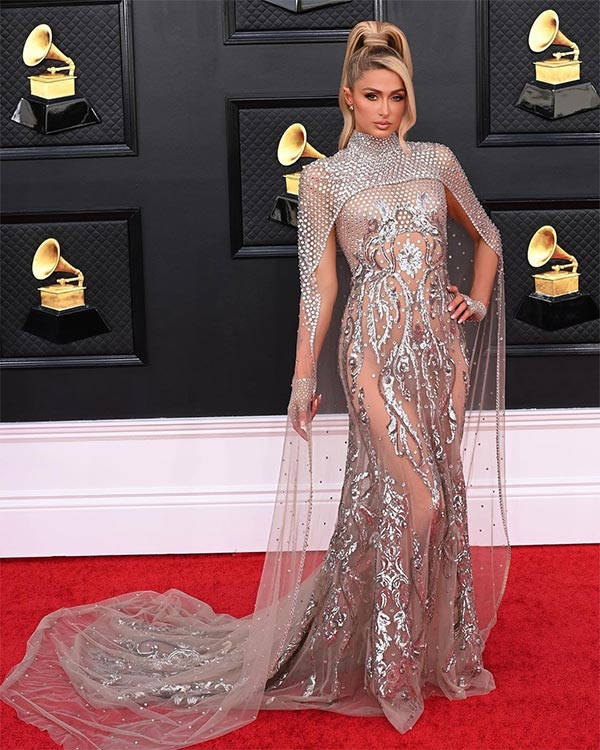 Paris Hilton brought in a retro vibe with an updo reminiscent of the 60s. Her high ponytail with a soft curl framing her face made her look like a Goddess. Plus, her silver outfit with a cape emanated a larger-than-life appeal. Clearly, cool-toned silver and platinum hair and outfits were the show-stoppers at the Grammys and a possible trend for the whole year.
3. Laverne Cox
Laverne Cox's fuchsia-purple hair garnered several eyeballs at the Grammys. She styled her colorful hair with soft waves and a retro-inspired black birdcage veil. Her fuchsia eye makeup complemented her vibrant hair to the tee, and her black lacy outfit brought the whole look together. If you want to be experimental with your hair this season, then this is the look to go for!
4. Olivia Rodrigo
Olivia Rodrigo sported the trending clean makeup look but with a hint of glam. Her base makeup and lips were subtle, with a shimmery inner corner and wings framing her eyes. She styled her dark hair in soft waves and wore an off-shoulder black outfit. What made her look pop was the 90s inspired choker and necklace that matched the pink embellishments on her outfit.
5. Michelle Zauner
Michelle Zauner brought some spring hues to the red carpet with her ruffled yellow outfit. She matched her eye makeup to her outfit with a yellow graphic liner which is currently trending. She also kept her hairdo fresh and youthful, with braids accessorized with pearls and a cute fringe at the front.
This year's Grammy Awards were not just a celebration of music but also fashion and beauty! So, which of these celebrity looks was your favorite?