Top 5 Celebrity Hair And Makeup Looks From The Cannes Red Carpet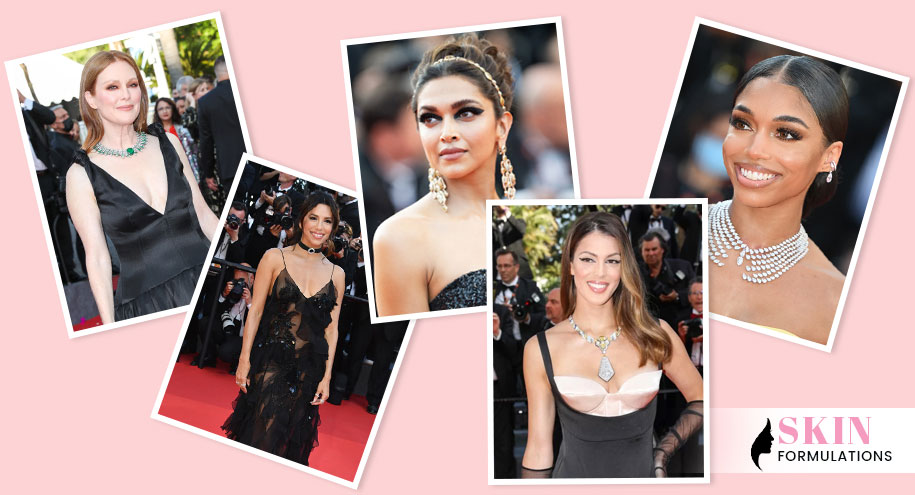 The Cannes Film Festival is an annual event that previews and applauds promising films from around the globe. The Cannes red carpet is equally enticing, with celebrities serving their most stylish looks. This year's Cannes red carpet was no exception when it came to magnificent hair, makeup, and fashion displayed by global celebrities. While it is hard to choose the top 5, here are some of the best looks spotted on the Cannes red carpet.
The Best Celebrity Looks From The Cannes Film Festival 2022
1. Deepika Padukone
Bollywood megastar and international actor Deepika Padukone looked charming at Cannes this year in a 60s-inspired look. The actress sported a dark grey eyeshadow that framed her eyes to perfection. She topped up the eyes with fluttery eyelashes while the rest of her makeup was minimal. To add to the vintage glamour, she wore her hair in an updo with a bejeweled headband and statement earrings. This was truly a look to remember!
2. Lori Harvey
Lori Harvey went the Disney princess route with her voluminous yellow off-shoulder gown. She accentuated it with stunning diamond jewelry and elegant makeup. She chose glossy lips, a French manicure, and subtle smokey eyes to go with her gown. Her hairstyle was also super chic with a slick pulled-back low bun. This look was a classic example of how less is more when it comes to makeup.
3. Julianne Moore
Julianne Moore's rust brown eyeshadow certainly made heads turn on the Cannes red carpet. The actress paired the dramatic eye makeup with a soft pink blush and muted lips. Her blow-dried hair matched her eyeshadow and brought the whole look together. The style icon continues to inspire women of age when it comes to flaunting their mature skin with panache and confidence.
4. Eva Longoria
Eva Longoria never fails to look stunning on the Cannes red carpet. This year, she sported a 90s-inspired look with a black choker and glossy pink lips. She also went all glam with a bold cat eyeliner, voluminous lashes, and her messy up-do added a youthful appeal to the look and made her dazzle at the event.
5. Iris Mittenaere
Iris Mittenaere was the walking definition of subtle glam at the event. She sported a graphic eyeliner but kept the rest of her makeup understated. She accessorized her look with a statement necklace and added some softness with loose waves that fell on her shoulders. The look was the perfect balance of elegance and drama.
We can all take inspiration from these mesmerizing celebrity looks for our next big event. Which one of these was your favorite?