Ashley Tisdale's Beaty Routine That Everyone Should Try!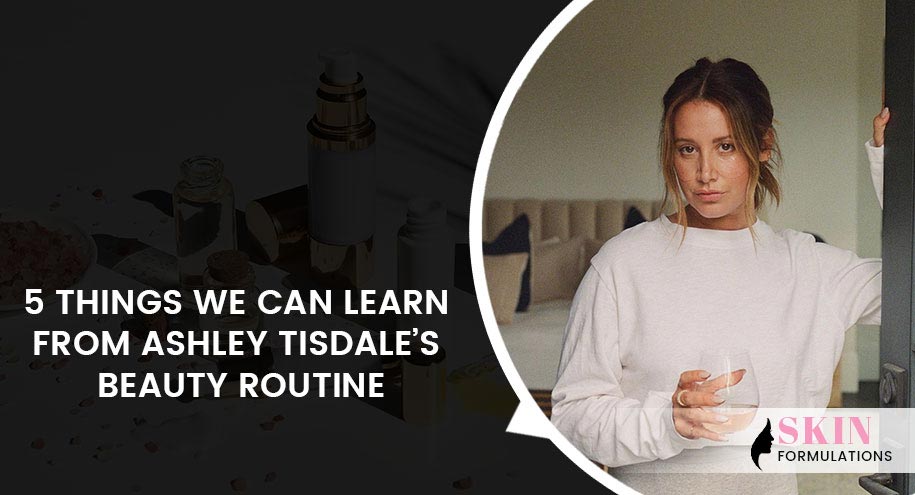 Actress and singer Ashley Tisdale has been a popular television name since a young age. 90s kids still remember her from her Disney shows. However, apart from her acting prowess, another remarkable thing about Ashley is her flawless skin. Her face always has a sun-kissed glow, and her signature makeup is minimal and dewy. We can all take a leaf from Ashley's beauty book for that glowy everyday makeup.
Luckily, Ashley recently dropped some of her beauty secrets, and here is what we can learn from her.
Ashley Tisdale's Beauty Tips That Everyone Should Try
1. Take Your Time with Skincare
Ashley keenly observed her facialists to realize that they take a lot of time with each step of the facial. She has emulated this in her skincare routine and takes time to cleanse and exfoliate her face properly. As a bonus, a relaxing skincare routine also eases Ashley's anxiety, and she recommends it to those under stress.
2. Prep Your Skin Before Applying Makeup
A common beauty mistake is to ignore skincare before applying makeup. According to Ashley, prepping her skin with skincare is essential for a flawless makeup look. She thanks her grandmother for teaching her the importance of skincare from a young age. This tip can take your makeup to the next level, as moisturizing your skin helps achieve a seamless and well-blended makeup look.
3. Less Is More
Look at any of the photos on Ashley's Instagram page, and you would know that she loves minimal makeup. She seems to follow a less is more approach with a natural, dewy base and a bronzer. When you have done your skincare the right way, you truly do not need cakey makeup to hide your skin. A light, natural base will let your skin shine through.
4. A Bronzer Can Be Game-Changing
Ashley admits that she loves a good bronzer for the sun-kissed effect. And it can truly elevate your minimal makeup to the next level. Interestingly, she also uses the same bronzer on her eyes for a quick and effortless look. This trick is perfect for those who do not want to use too many products for a simple everyday look.
5. Don't Forget the Blush
A blush adds a healthy flush to the cheeks that look flattering on everyone. Plus, Ashley blends her blush upwards for that lifted effect. This trick offers color and lift to your face at the same time and is ideal for a minimal makeup look. You can try it with a cream blush for the best results.
These simple yet effective beauty tips from Ashley Tinsley can upgrade your everyday makeup. So, which of these tips will you try first?