Keeping Oily Skin In Check: A Comprehensive Guide
Oily skin not only looks bad, but it can be indicative of more serious skin problems. Millions of men and women struggle every day to keep their oily skin in check, but in today's article, we will help you develop the best skincare routine for oily skin.
The Root Causes Of Oily Skin
If you have done everything to control your oily skin to no avail, the problem could be genetic. While there are environmental factors like the food you eat, stress, and even hormones, one of the most common causes of oily skin is a hyperactive sebaceous gland. It is responsible for producing sebum, a waxy, oily coating that is created below the skin surface and is excreted through the pores. While sebum is essential to protect and hydrate your skin, too much of it can result in excessively oily skin. 
So, what causes a hyperactive sebaceous gland? Usually genetics, and unfortunately, there isn't a whole lot you can do about your genetics. Bet there are ways you can mitigate sebum buildup on your skin and keep it in check. With the right skincare routine for oily skin, you can make a huge difference.
Keeping Oily Skin Healthy
Oily skin can lead to bigger problems like acne, blackheads, and perpetual skin redness. The best ways to keep oily skin healthy, as the American Academy of Dermatology points out are to:
Avoid oil-based cleansers and creams
Wash your face daily
Avoid touching your face
Make sure to wash off makeup every night
Please note that while these practices may also mitigate excessive oil on your skin, they are more geared towards keeping oily skin healthy as opposed to keeping it aesthetically pleasing. These are the practices that are recommended by dermatologists to keep oily skin from becoming a more serious skin problem[1].
The Best Practices For Oily Skin
Now we will get into some of the daily practices you should adopt not only to keep your oily skin healthy but keep it looking good too.
Be Careful with Astringents – Astringents can be beneficial by drawing out the excess sebum in your pores, but many of them are alcohol-based and can end up over-drying your skin. The best skincare routine for oily skin should include some sort of astringent regimen. But if you can't find a nonalcohol-based product, be sure to at least use an astringent no more than once every other day.
Use Oil Control Primer Bases – If you want to control oily skin throughout the day, switch to an oil control primer base or a mattifying primer. These kinds of products will help absorb oil and neutralize it.
Use Green Tea – Green tea is loaded with antioxidants that can help keep oily skin in check. Just boil some green tea or green tea leaves in water, strain the tea leaves out of the water and put the water into a clean spray bottle. Spray the treated water onto your face as part of your regular skincare routine.
Diode Laser Therapy – Diode laser therapy has shown much promise in clinical trials for some dermatological uses. It accelerates healing, stimulates blood flow[2] in the skin cells, and can inhibit sebum production.
Exfoliation – Using an exfoliating skin product may not stop oily skin, but it can clear pores that have been clogged by oil and prevent pimples and blemishes. But exfoliants can also be harsh on your skin, so you should exfoliate a maximum of once a week.
What Masks Can You Use For Oily Skin?
Face masks are one of the most effective ways to control oily skin, and luckily, several different types of masks are very beneficial.
Egg Whites and Oatmeal – Oatmeal naturally absorbs oil while the vitamin A in egg whites helps to clear pores clogged by oil. To make an effective face mask for oily skin, simply beat egg whites (no yolk) with a whisk and add a quarter cup of ground oatmeal and mix well. Apply to the face for 15 minutes.
Turmeric and Citrus – Citrus is a gentler astringent than alcohol, and turmeric provides antioxidant defense. Simply mix a quarter teaspoon of turmeric powder with 2 tablespoons of sandalwood powder and 2-3 tablespoons of orange juice. Mix into a smooth paste and apply to your face.
Banana – Simply mash a banana and apply the paste to your face. Easy right?
Bentonite Clay – Bentonite clay works wonders for oily skin. All you have to do is mix a bowl of bentonite clay with a teaspoon of witch hazel and apply the mixture to your face.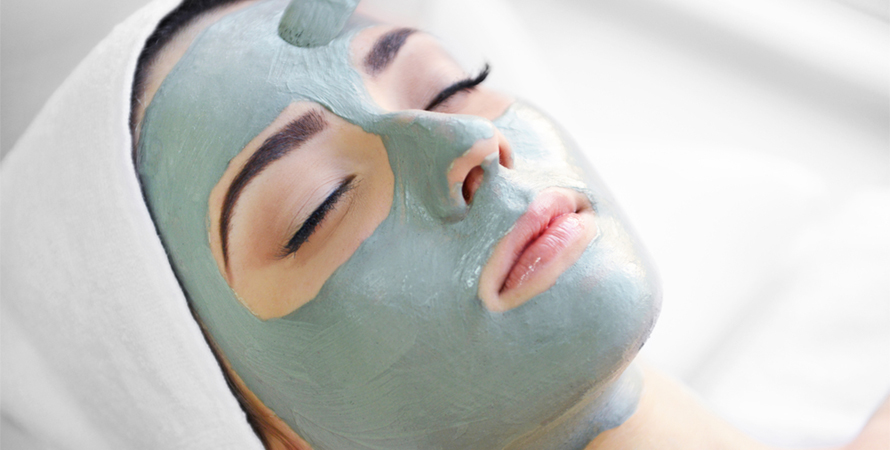 Oily Skin FAQs:
1] What are the best vitamins for oily skin?
B vitamins like B6 and B12 are considered the best vitamins for oily skin.
2] Which foods are good to keep your skin nourished?
Carrots, spinach, blueberries, lychees, raspberries, and fish rich in omega fatty acids are all great for your skin.
3] How to choose the best skin care routine for oily skin?
Assess which portions of your skin are giving you the most trouble and ask your dermatologist.
4] What food is bad for your skin?
Foods high in sugar or dairy products made with antibiotics are usually the worst for your skin.
5] Should I use moisturizer if I have oily skin?
Yes, your skin still needs proper hydration if you have oily skin – especially if you are using an astringent or other product to minimize your skin's natural oils.
Final Advice
The skin care routine for oily skin will vary from person to person. That's because everyone's skin is different. So, it's very important to keep a close eye on your skin. Use some or all of the tips we have mentioned in this article but observe closely how they affect your skin and make adjustments as needed.
Good exercise and diet can also help with oily skin – just make sure to wash your face after every time you work out.