The Secrets To Making Any Outfit Amazing!
Introduction
Having that fabulous outfit or a capsule wardrobe is something that can be a great thing to have!
However, it's not always easy to know how to style an outfit, whether the classic pantsuit or an elegant evening dress; it's often the case that styling the outfit is the most challenging element of the whole parade!
What shoes do you choose?
What accessories are best?
Do you use complementary colors or contrast?
What does the event call for?
Do you want to be different and go against the grain?
What is in fashion?
When styling an outfit, there are so many considerations. This article would be a book if we tried to break it all down!
Styling is super important as we can take an outfit from the office to the evening or casual to fancy in a few simple moves with some straightforward styling tips and tricks. Correct styling can take a good outfit to extraordinary, which will boost your confidence and overall look, which is never a bad thing!
Styling can also make a whole outfit come together and make everything look like it is designed to all go together. Your vast amounts of effort have gone into piecing everything together to make it a whole look, rather than just wearing garments with a brooch and hat thrown in for good measure!
We briefly mentioned that proper styling can make even the most common outfit individual for you. This is important to know when you look at fashion in general. 
Unless it is bespoke, and outfits from high street designers may have many owners. Styling can make an ordinary outfit have that individual twist.
So, let's have a look at some easy-to-achieve hints and tricks you can use when styling your next fantastic outfit!
1. Choose The Right Accessories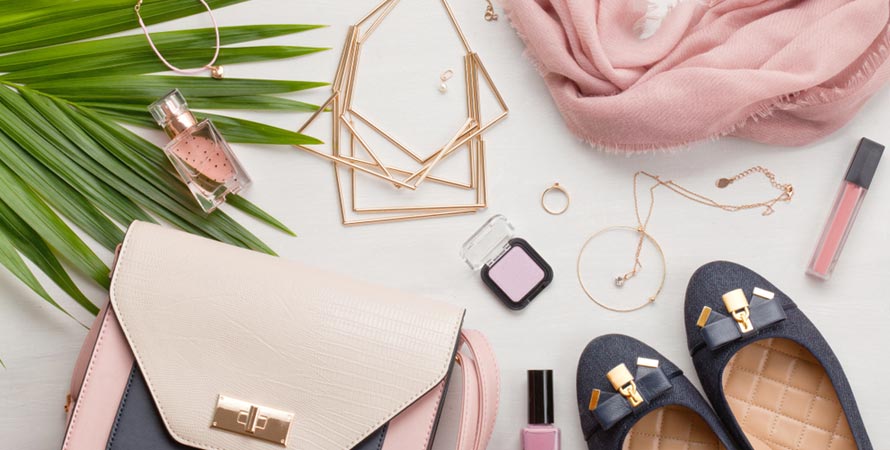 We need to make this an important point and one we will make really strongly too!
CHOOSE THE RIGHT ACCESSORIES!
We understand this can be tricky, so we are here to give you some straightforward ways to trick it out!
The right accessories will follow a pattern if you think about a 4-step approach:
2. What season is it?
This is important as the styling of your outfit will be different because of the weather! If it's high summer, you may wish to style a maxi dress with sandals and a lace wrap; if it's winter, you will be looking more at knee boots and a cozy cardigan or shacket.
3. Will the outfit suit some color?
This is a significant consideration when looking at styling! 
Suppose the outfit has bold and intense colors. In that case, you will be looking at accessories in complementary (and the same throughout!) shades to pull the whole outfit together.
Suppose the outfit is one base color, black or beige throughout.
In that case, the accessories might be better with a pop of color, such as rich chocolate leathers or silver-colored accents in the jewelry.
4. What's the occasion?
The occasion will often be a significant determining factor to how you style your outfit; full-on diamond-encrusted accessories will be more suited to a ball versus a casual dinner with friends (although some fashionistas will disagree!).
This point is all about making the overall styling of the outfit appropriate to the event you are attending to make everything fit in.
5. What is the outfit?

The initial outfit, i.e., the fabrics you have chosen, will be an essential lynchpin to select your accessories to style the outfit.
For instance, a pantsuit might lend itself to a pair of slim heels and a statement necklace. In contrast, a winter outfit of a high-neck sweater and jeans may lend itself better to a hat and statement boots.
Not every base outfit has the exact styling requirements, so think about what the outfit has, such as:
Long sleeves
Full-length legs
High necks
Fitted legs
Open backs
These elements will determine how you can accent the base outfit you are wearing so as not to under or over-accessorize your outfit.
6. Make Sure Your Clothes Are Comfortable
Nothing kills a look more than discomfort!
People will be able to tell immediately (and from afar!) that you are not confident in your outfit because of your discomfort.
For authentic fashion, we do not sacrifice comfort! You need to feel comfortable in every element of your outfit. Otherwise, you will give off an uncomfortable vibe, which can spoil the outfit completely!
Make sure you cover comfort in these 3 things to exude confidence in your outfit:
Heel height – make sure the shoes you have chosen are not too high and uncomfortable to wear for an evening.
Your trouser/shirt/dress fitting – Make sure you have enough room to breathe when your clothes are fastened fully.
Your shirt/jacket fitting – Ensure you have enough space over your back to sit, stand, and maneuver freely and that the front of your blouse/shirt and jacket can fasten fully with no gaping or unnatural tension.
7. Choose Pieces With Interesting Details
If you are not one for substantial accessorizing and you feel a bit uncomfortable with donning lots of accessories, simply don't do it! It relates back to the "comfort in confidence" point above. People will detect if you are doing something that doesn't quite fit your character!
However, the one failsafe way of adding some styling to pieces with little to no effort is to choose the outfit pieces that already have exciting detailing.
This could include:
Pieces with inbuilt jewelry, such as brooches and necklace detailing
Pieces with attractive trims, such as patterns or embroidery
Items that are showstopping as they are, such as dresses that have open backs with chain details
Things that are mixed in texture and have some opacity in some sections, such as organza or lace panels and sections
Clothing with glitter or holographic fabrics
8. Learn The Art Of Layering

The art of layering is something that, once you have learned it, will be something you always do when it comes to styling!
Layering is simply the art of strategically placing fabric over fabric. This can be really important for styling an outfit, from casual to super special. When you layer, you are either looking for an effect or warmth, covering one modesty or all of the above! For instance, we often wear a light sweater over a tank with possibly a knit. This is layering for warmth to decide the layers to remove if it becomes too warm!
Layering for styling an outfit can be similar but slightly different in its execution. An extreme example would be styling a swimsuit from pool to beach restaurant as the sun goes down. You would be looking to layer for warmth and modesty, so you may look into layering with a kaftan, light trousers, and a flowing light knot into the evening. This will allow you practicality and modesty in the right setting.
9. Experiment With Patterns
The introduction of patterns can make even the most conservative outfit ready for a little bit of fun in the bar post-work!
Styling a conservative outfit can be the most effortless and fun to do! Watching a starchy, conservative outfit turn into something suitable for after inner drinks post-work is like decorating a tree at Christmas time! By adding patterns to an otherwise plain outfit, we are saying, "Hey, time to jazz things up a bit here!"
Patterns can be added to a simple outfit in 3 significant ways:
Subtle patterns – Include adding a striped scarf or a dotty headband
Pattern mix – The pattern mix would include a contrast of patterns, such as a chequerboard silk shirt paired with a polka-dot accessory set
All in pattern jumble – This is where there is no-holds-barred when it comes to adding patterns and experimenting. This could be, but not limited to, horizontal striped heels, a bird-print headscarf, and a diamond-patterned pant set
Conclusion
There can be many options to take when looking to style an outfit. The most important thing we can take from this is that whatever you do and choose to style your outfit, the most essential element to remember is to make sure you are comfortable with the choices!
Your confidence needs to exude louder than the music in the room you enter, so make sure that you are both physically and mentally comfortable with your choices as if you are not either of those things, you will display it subconsciously.
You can add so many things to your outfit to style it, from jewelry to mixing fabrics, layering for your event, and adding or mixing patterns; the choice can be endless.
There are no hard and fast rules to styling an outfit, so have fun and make the most of giving a new vibe to your existing outfit, taking you from casual to extraordinary in a few easy moves!