Lip Cosmetics – 5 Lip Essentials You Should Know About
Sometimes, the simplest of things are our favorite things ever!
Women are often creatures of habit, so we gravitate towards the items that we know and love when it comes to cosmetics.
When it comes to beauty products as a whole, there's nothing more classic than humble lipstick. It's a staple in any woman's makeup bag and the perfect way to complete any look you are trying to achieve.
The lipstick itself dates back many thousands of years, albeit not quite as we know it today! It was used in ancient Greek times by crushing any matter with pigment and painting it on the lips to provoke attention and attraction and assert a special status in society.
The lips have always been recognized as one of the most sensual parts of the body, so it is easy to understand that people use lip products to accentuate their feminine sexuality.
Over the years, women (and men!) have often opted for a lip product to make them feel good, look good, and make their inner beauty shine on the outside. Psychologically, a good lippy in your favorite shade or a lip product that gives you a drench of moisture or a glossy tint can make anyone feel that little bit better, even on the most down of days.
However, as with all makeup products, there can be too much of a good thing, and cosmetics manufacturers understand this to the fullest extent! You will find thousands of different lip products to buy everywhere in 2022, and there is a product, style, and color to suit everyone's needs. But do you need them all, or just a few of the best staple lip products to see you through?
Here are the top 5 lip cosmetics every woman needs to have in their makeup bag in 2022!
1. Lipstick
Lipstick can be a woman's best friend. It's a staple in any woman's makeup bag.
Lipstick provides a beautiful, natural look to your lips. It can complement any eye makeup or indeed outfit that you are wearing.
Nowadays, lipstick can come in every shade and finish under the sun! There is something for everyone, including mattes, high-shine finishes, and even ones that change color with body temperature.
What would we do without it?
If you're going to wear lipstick, make sure you have at least one of these five classic colors:
Nude
Red
Pink
Brown
Purple
Nude, red, pink, brown, and purple are the most popular colors globally, and they can work for every skin tone and every occasion. While some other colors are very popular in certain countries or regions of the world, these 5 will work for everybody!
2. Lip gloss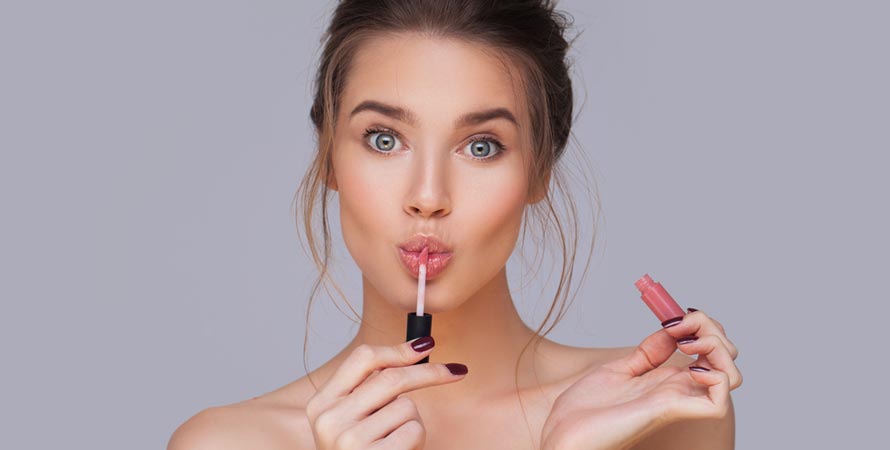 Lip gloss is the first lip product every woman probably owned and should still have in her beauty routine.
Lip gloss can be worn solo or on top of lipstick to help keep your lips moisturized and less prone to cracking, and the shine of most lip glosses is delicious!
Lip gloss comes in various formulas, including colorless, sheer, shimmer, and tinted formulas. It's also available in so many different shades, as many as lipstick!
When choosing lip gloss, make sure it suits your skin tone and complements the other makeup you're wearing on your face, if you are wearing any at all! A lip gloss can be worn as the only thing you have on and will still look amazing!
3. Lip liner
Lip liner is THE trending lip product of 2022 that every woman needs to own, but it often gets overlooked.
On the practical side, lip liner can help keep any lip product from bleeding into your lip line and fine lines around your lip contour and create the illusion of fuller lips.
It's not uncommon for women to use a lip liner as their only beauty product to give themselves an enhanced pout.
The three major things you should know about lip liner are:
Lips come in all different shapes and sizes. So make sure that you use the right color (a darker shade) when lining your lips for an edgier look or (a lighter color) when lining your lips when you want to make them appear fuller.
Always start with the outline of your lip before filling in the rest of it. This will help keep lipstick from bleeding from your mouth if you don't want that messy look!
You can also use a good lip liner as your only beauty product. Just pair it with chapstick or gloss for a glossy pout!
4. Lip stain
A lip stain is a fantastic way to have a hint of color on your lips without the commitment of constant retouching!
We recommend lip stains for dinner dates or any occasion that may mean regular bathroom visits to retouch, as lips stains do precisely that… they stain!
Lip stains are usually sheerer, but they tend to last much longer than lipstick or gloss and can be layered to create illusions of more depth and dimension on the lips.
It's also an excellent option for women who want their lips to retain some natural color but would still like to wear something that matches the outfit or catches the eye.
The best thing about lip stain is that it can be worn with any look. This means you'll always have something that goes with whatever outfit you decide to wear for any occasion!
Lip stain is also ideal for those who are sensitive to the common ingredients in lipsticks and glosses, such as benzyl alcohol and fragrance. These ingredients can be irritating for people with sensitive skin or allergies.
Alternatively, if you're looking for more pigment on your lips, many brands make an intense version of their lip stains which will give you plenty of colors!
5. Lip scrub

Lip scrub is a must-have for anyone passionate about lip care. Lip scrubs come in different flavors and textures and are used to exfoliate the surface of the lips.
Having smooth lips free from skin fragments, cracks, and unevenness is significant if you like wearing matte lipstick because it will attract any dry skin on your lips.
A lip scrub should be slightly gritty, which will help remove the dry skin on the lips, allowing them to feel smoother (and look smoother). As well as making your lipstick application more straightforward, it will help prevent flaking and chapping of the lips.
Remember that licking your dry lips may not be enough to moisturize them. There are so many reasons to invest in a lip scrub and do it once or twice a week!
Conclusion
With the right lip product, it's easy to make an instant transformation, both in appearance and in the way you feel. Lip products can provoke a feeling of confidence and make you feel beautiful!
Whether you are looking for a strong pop of color, a high-shine pout, or a more natural and longer-lasting look, there is a lip product to suit everyone out there!
Choose your colors carefully to suit your skin tone and the undertones in your skiing (especially with reds!), and you will be winning the lip game!
If in doubt, call on a beauty expert or head online for an accurate AI color matcher, which can also recommend you the best products to buy too!
Lip care is super important too, and this is to make sure that your lips are in the best condition to show off your chosen lip products (and lips!) to their fullest!
So head to your favorite beauty retailer and check out these five types of lip cosmetics every woman should have. Have fun!
It's all about the lips in 2022!