Bathroom Beauty Essentials: 8 Essentials Your Bathroom Needs!
Introduction
Bathroom Essentials? What are those things for you?
The world is flooded with items and products claiming to be the "Must Have" or the "You Absolutely Need" essentials. While we don't doubt that there is a purpose for everything out there that is available to buy, the term "essential" means different things to different people!
For instance, you could have the world's most excellent and most essential detangling hairbrush, but that would have no necessary use for a person with no hair.
So, we can see that "essential" for one person may mean the very same product is utterly redundant for another person. As you can imagine, some products are more necessary than others when it comes to deeming them "essential."
The question is, what items are universally essential to keep in our bathrooms that can simplify our lives and make things quicker and easier for most people?
Here are our top 8 items that we deem essential for everyone to keep in their bathrooms that will make your overall life and routines as straightforward as they can be!
These really are the items you will miss when you don't have them around!
1. Make-up Remover Wipes
Make-up remover wipes are the essential staple item of any bathroom!
Not only can they remove your make-up at the end of every day, but they also are super handy for clearing make-up spillages and bathroom accidents and can act as a quick skin refresh if you are on the go.
Look out for ones containing soothing ingredients such as Aloe and Chamomile, and look for biodegradable wipes, so they are kinder to the planet.
You can pick up excellent make-up remover wipes from any good supermarket and expect to pay between $1-$5 for between 25 and 40 wipes per pack.
2. Q-Tips & Cotton Pads

There is no such thing as a good bathroom without these essentials!
Q-tips and cotton pads are incredibly versatile and can be used in tasks such as:
Targeted Spot Treatments
Applying Make-up (Yes, really!)
Cleaning Around Taps
Cleaning Around The Ears (Not directly in the ears)
Removing Nail Polish around the nails
Plus so much more!
It is always worth paying that tiny bit more for these essentials, especially the Q-tips, to make sure they are not made of non-recyclable plastic. There are some great alternatives, such as bamboo and refined cardboard, which are all biodegradable.
You can expect to get a considerable amount of these products for a minimal amount, but this can vary by design and material. Still, you can expect to pay no more than around $3 for an 80-100 pack from any supermarket or drugstore.
3. Natural Body Scrub
Body Scrubs are simply one of the best essentials you can have in a bathroom, and natural ones are so easy to make and store.
You can use body scrubs, as the name suggests, to scrub your body! But they can have hidden uses that are deeper than just making your skin soft and smooth.
You can use a natural body scrub to:
Improve circulation to the skin
Improve lymphatic drainage
Remove stubborn watermarks (Yes, really!)
Improve the stimulation of collagen
When looking for a natural body scrub, look for ingredients such as honey, lemon, oatmeal, brown sugar, and coconut oil, as these are the best bases for an excellent natural body scrub.
Of course, the best way to go may be to make your own (which is really simple to do!), but if you purchase one, a good body scrub can cost anywhere from $5 up to the low hundreds!
Cost isn't always a great indicator of quality, though, so make sure you look at your ingredients list first!
4. Microfiber Hair Towel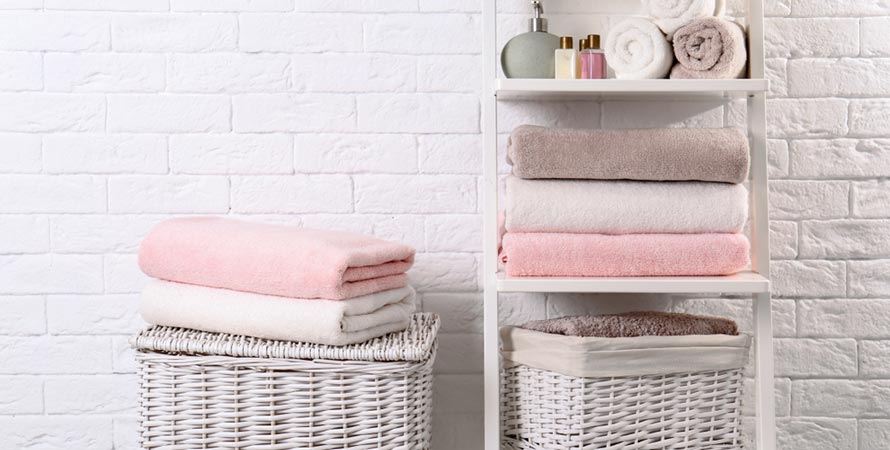 Have you ever washed your hair beautifully only to find that the regular towel is downstairs?
Us too! So, a microfiber towel is a great bathroom staple to have stashed away in the bathroom for those occasions, and they fold up small for traveling around too!
The microfiber is highly absorbent so that it will absorb all of the excess moisture in your hair without the need for excessive rubbing-dry. This technique is excellent for reducing the instances of stress on your hair that can cause damage.
These microfiber towels are relatively affordable and handy so expect to pay anywhere from a small $2 to around $10 for fancier designs, available readily online or at many drugstores and supermarkets, as well as shopping malls.
5. Dry Shampoo
Busy ladies, this one's for you!
While we know it's not healthy to wash our hair daily physically, we still need to feel and look like we have!
Dry shampoo is a lifesaver for those in-between wash days, and they have a clever way of getting rid of greasy patches, building volume, and giving the illusion of thickness to your hair too!
With all the varieties of dry shampoo available in aerosol and natural powder formulations, you are bound to find one that suits you. You can find dry shampoo anywhere online or in the supermarket drug section and expect to pay more than $5 for a perfect one.
6. Make-up Mirror

Having a make-up mirror as an extra bathroom essential to a vanity mirror is handy, especially if you have a delicate job to do or you need specific magnification.
A perfect make-up mirror should be:
Handheld
Lightweight
Have a section that magnifies
East to store (Thin and not bulky)
Easy to open and close
Again, make-up mirrors can vary from a dollar or two from any good supermarket or drugstore, or dollar shop; the main thing that will sway your purchase is probably the design!
7. A Multipurpose Balm
A multipurpose balm is a priceless essential to have in your bathroom as a go-to to moisturize anything quickly, such as lips, rough elbows, and cracked heels.
Multipurpose does mean that you can use it for most things it is suited for, and a great balm will tidy your brows, condition your lashes, and provide a sheen on hair in an emergency!
Expensive balms are available, but you can get a perfect one for under $5 from most beauty online retailers and drugstores.
8. Tweezers

No bathroom is complete without an excellent set of tweezers, and they really can be the most essential bathroom item of them all!
Tweezers, as we recommend slanted edge tweezers for extra precision, can:
Get rid of stray hairs
Remove stings and thorns
Help in applying first aid adhesives
Give you a guide for the perfect winged eyeliner
You can pick up an excellent set of tweezers from any supermarket or beauty stand in the mall, and the prices range from a few dollars to around $20.
Conclusion
All in all, bathroom essentials are exactly what you believe to be essential to you!
However, there are many essential items that everyone needs, and these are the items that you will miss when you actually might need them!
Bathroom essentials don't have to cost the earth either but pay a little consideration to the environment if they are disposable items such as cotton pads and make-up remover wipes, for instance.
Make sure that you stock your bathroom essentials well, and also take a little of each item when you are traveling for the ease and convenience of having your bathroom essentials with you at all times, even those times when you are not in your bathroom!